There's no doubt about it: honey is the ultimate cozy food. Whether in a hot cup of tea or coffee, drizzled over a hot English muffin, on pancakes or waffles, or simply as a sweet treat by the spoonful, this is the collection of the coziest infused flavours that you're sure to love. This a great bundle to gift someone if they are needing a long-distance hug, but also a great way to stock your own shelves with fun and cozy infused honey flavours.
This Bundle Includes:
Two 150g and one 300g jars of Canadian honey infused with simple ingredients to make the most wonderful flavours! Includes Crème Brûlée, Mocha, and (larger format) Creamy Chai.
Our honey makes a great gift because it is gluten-free, organic, nut-free, dairy-free, and has a long shelf life. Plus our adorable little jars look amazing on a shelf (not to mention, the honey is so unique and delicious!).
Ideas for enjoying: slathered on toast, in a cup of tea, in a smoothie, on yogurt and granola, drizzled on fruit, on pancakes or waffles, overtop baked brie, on a charcuterie board, as a syrup base for cocktails, by the spoonful, and so much more. Follow @chandler.honey for recipe ideas!
Chandler Honey is raw organic honey with a delightful twist! Chandler Honey is a collection of naturally infused raw honey, using whole ingredients such as lemon zest and vanilla beans, with no additives or extracts. It's natural, organic, unique, and extremely delicious! All of the honey is sourced from founder Tique's parents' farm in Alberta where she grew up, and it's lovingly hand-infused in Toronto. 100% Canadian and female-owned.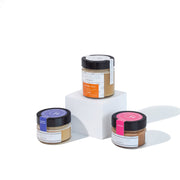 The Cozy Bundle